Hawaii Match 4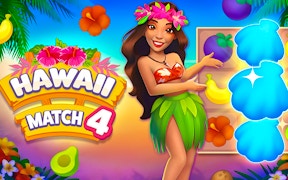 Hawaii Match 4
Immerse yourself in the sun-kissed splendor of the Aloha State with Hawaii Match 4 - an addictive entrant in the ever-popular match 3 games category which promises to take your gaming experience to a new zenith. With a stunning combination of captivating gameplay, spellbinding graphics, and tantalizing challenges, Hawaii Match 4 is more than just a game, it's an escape to paradise.
The core essence of Hawaii Match 4 lies in its robust collection of over 3000+ new levels. Each stage is meticulously curated to tickle your fancy for brain games, keeping you hooked for hours on end. As you delve deeper into this tropical retreat, unlock an irresistible array of exotic fruits and flowers that enhance the overall gameplay and offer rewarding boosts and bonuses.
Hawaii Match 4 is much more than your average match 3 game. It ingeniously incorporates elements of strategic thinking into its overall gameplay framework, ensuring that players are mentally stimulated as they navigate through this tropical wonderland. The addition of New Daily and Weekly Challenges offers fresh content at regular intervals, maintaining a healthy pace that keeps monotony at bay while simultaneously engaging players in endless fun.
In conclusion, Hawaii Match 4 successfully blends exhilarating gameplay dynamics with spectacular visual treat that perfectly embody the vibrant spirit of Hawaii. The game's unique strategy-laden format elevates it from being just another match-3 game to a genre-defining brain teaser. Whether you are a seasoned gamer or just looking for a casual distraction, Hawaii Match 4 promises an unforgettable journey full of challenging puzzles and breathtaking sights.
If you're yet to embark on this tropical voyage, get ready for a thrilling adventure! Play Hawaii Match 4 now to explore magical islands, collect exotic rewards and dive into the heart of match-3 gaming like never before!
What are the best online games?
Tags