Happy Color Sort Puzzle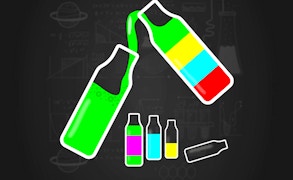 Happy Color Sort Puzzle
Description
In Happy Color Sort Puzzle, players are tasked with sorting various colors of water into their matching receptacles. A seemingly simple task is secretly a strategic and challenging game of observation and decision-making. With every tube being visually alike, you need to carefully distinguish between colors, turning this color-coordination exercise into an immersive and addictively fun gaming experience.
How to play
To play Happy Color Sort Puzzle, simply click or tap the different tubes to pour the colored water into its corresponding tube. Levels will progress in difficulty, requiring more strategic planning. You have to precisely plan your moves as the number of tubes will increase progressively, escalating the need for effective decisions, hence stimulating your critical thinking abilities.
Tips and Tricks
Take your time and plan your moves ahead in Happy Color Sort Puzzle. Remember, it's not just about matching colors but also about conserving space for future moves. Never fill a tube completely unless you're certain it's the right color – this leaves room for adjustments later on.
Features
Aesthetically pleasing graphics with vibrant colors that keeps players visually engaged.
A myriad of challenging levels that scales in difficulty as you progress.
The game stimulates logical thinking and problem-solving skills due to its strategic element.
The gameplay mechanics are simple and intuitive, making it suitable for all age-groups.
What are the best online games?