Gyros Brawling Star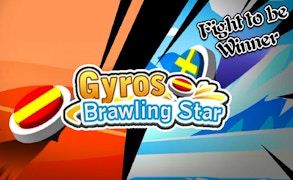 Gyros Brawling Star
Delve into the electrifying world of Gyros Brawling Star, a captivating addition to the realm of .io games that skillfully combines the thrill of battle games with the mind-bending complexity of skill games. Seizing its spot among the best in its genre, Gyros Brawling Star is a roller-coaster ride of adrenaline-fueled action and stratospheric highs.
The game's premise is simple yet compelling: become the ultimate Gyros brawler. Faced with an ever-evolving battlefield, your finesse and quick thinking will bear testament to your standing as a true Gyros Brawling Star. The game's dynamic design ensures that every encounter is unique, breeding an environment where your strategic prowess can truly shine.
Gyros Brawling Star isn't just a battle royale; it's a test of survival, lateral thinking, and sharp reflexes. The satisfaction derived from executing flawless maneuvers to outwit opponents is unrivaled in this genre. It's like playing chess on steroids - every move matters, every decision could be your last, and only the shrewdest players emerge victorious.
Teeming with fierce competition and brimming with strategic depth, Gyros Brawling Star offers an immersive .io combat experience unlike any other. Its enticing gameplay perfectly blends strategy and action, offering endless hours of exhilarating entertainment for fans of both battle games and skill games. Rise above the chaos, dominate the battlefield and become the brawling star you are destined to be!
If you're hunting for an innovative spin on classic .io gaming that challenges not only your fighting skills but also your critical thinking abilities – look no further than Gyros Brawling Star. It's not just a game; it's a thrilling battleground where only the smartest survive.
What are the best online games?
TAGS