Gunfight.io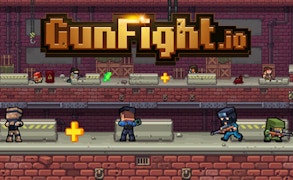 Gunfight.io
Have you been on the hunt for the ultimate showdown in gun games? Allow me to introduce you to Gunfight.io: a dynamic, action-packed pixel game that draws you into a world of urban warfare unlike any other. Submerging players into enthralling battles within diverse settings, Gunfight.io takes classic shooting games to an entirely new level.
Right off the bat, Gunfight.io, lives up to its namesake by plunging players into intense gunfights within intricate landscapes. Imagine waging war in an office building transformed into a battlefield, or navigating your character through an old factory riddled with hidden enemies. It's like stepping into an episode of your favorite action movie, with you in the starring role.
Your journey begins with a comprehensive training round where you'll master the art of aim, shoot, and taking cover. It's as though your battling wits with opponents in a deadly game of chess – only here, cunning strategy mixes flawlessly with pixelated chaos. This is what makes Gunfight.io stand out amidst other gun games.
The vivid pixel games graphics catapult you right into the heart of the battle. Each explosion, bullet whizzing past and crunching steps echo in the neon-lit night of Gunfight.io's deadly arenas. They don't just bring the action to life - they immerse you in it.
Gunfight.io perfects its genre by offering varied locations for clashes such as train stations and office buildings. The change in landscapes not only keeps every game round fresh but also demands a shift in strategy and weaponry – raising stakes and adrenaline levels on this thrilling ride.
In conclusion, for those seeking exhilaration from their pixel games, there are few better options than stepping into the relentless gunfire and strategic combat that is Gunfight.io. It's more than a game; it's an adrenaline-pumping experience that will have you returning for more urban warfare again...and again!
What are the best online games?
TAGS