Guess card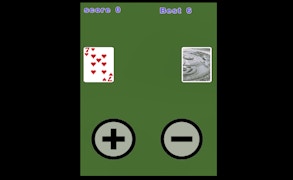 Guess card
Welcome to the vibrant world of Guess Card, a captivating puzzle game that will keep you on your toes, immersing you in an interactive trivia challenge where simple card guessing can reap high rewards.
Distinguished by its refreshing simplicity and exciting unpredictability, Guess Card stands out among the many trivia games available today. It's a heart-racing contest of tactics, strategy, and well ... a bit of luck too. The user experience is accentuated by the intuitive design, making it a breeze even for first-timers.
Your task? To speculate whether the next card drawn from the deck will be higher or lower than the last one revealed. At first glance, this might seem overly simplistic - merely a game of chance. But take heed, as beneath its seemingly clear-cut facade lies a complex web of strategy and calculated risk-taking.
If you crave occupation for your brain cells, while also enjoying some good old-fashioned card fun, Guess Card is surely your go-to option! It's more than just a game; it's an enticing journey through concentration and quick decision-making skills.
This engaging puzzle game, with its clever blend of luck and strategy, will keep you entertained for endless hours. Whether honing your skills in single player mode or challenging friends to beat your score in multiplayer mode, Guess Card offers an exciting gaming experience that will leave both casual players and hardcore puzzle fanatics craving for more.
The keyword here is 'guess'. But remember - every guess can lead to triumph or defeat in this roller coaster ride of a game. Are you ready to embrace this thrilling guessing challenge? If so, then step into the world of Guess Card, where every card turned is an adrenaline rush waiting to happen!
What are the best online games?
Tags