Grimace Shake & Skibidi Tetris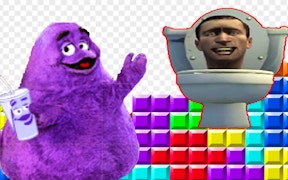 Grimace Shake & Skibidi Tetris
Let's dive straight into the eccentric and mind-boggling world of Grimace Shake & Skibidi Tetris, a unique twist on the classic Tetris game that's been taking over the tetris-games domain. When Grimace Shake decides to play tetris with a skibidi toilet, you know you're in for an enticing, if slightly absurd, adventure.
Right off the bat, this game scores high on the originality scale. Combining elements of rhythm and pace from the viral Skibidi dance, with traditional Tetris mechanics, Grimace Shake & Skibidi Tetris sets up a whirlwind of fun. The seemingly nonsensical pairing of a grimacing shake with a skibidi toilet adds an element of surprise that keeps you playing, turning every turn into an unanticipated delight.
The overall gameplay in Grimace Shake & Skibidi Tetris is at once challenging and addictive. Just when you think you've caught your pace dropping blocks into place, things shake up - literally! The Grimacing Shake brings about a sudden change in rotation speed for your blocks, forcing quick recalibration.
Nothing, however, prepares you for the Skibidi Toilet. At first glance, it might seem just another block set to fit into your Tetris strategy. But the moment it lands on your screen, it stirs up all your pre-set block patterns throwing an entertaining wrench in your plans.
To sum it up - this is not just another Tetris game on the block. With its quirky twists and strategic demands, Grimace Shake & Skibidi Tetris promises hours of puzzle-solving frenzy that's refreshingly different, challenging, and most importantly - a whole lot of fun. Tetris enthusiasts, puzzle lovers or anyone looking for a uniquely engaging game, keep your eyes on this one; it's not to be missed!
What are the best online games?