Gravity Soccer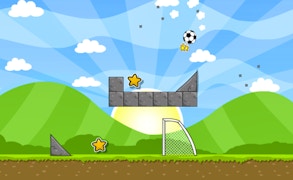 Gravity Soccer
Immerse yourself in the exhilarating world of Gravity Soccer, where your mind takes on a pivotal role and your footwork transforms into swift clicks of the mouse. This riveting fusion of soccer games and brain games provides a unique platform for puzzle enthusiasts to indulge their passion for strategy and sports.
In Gravity Soccer, it is not just about scoring goals, but unravelling paths to success by manipulating the soccer ball with the power of gravity. The mechanics might be reminiscent to other ball games, but its creative blend with physics-based puzzles sets it apart.
The game poses various challenges that test your cognitive skills and decision-making abilities. Each level presents a new, mind-bending puzzle that demands strategic planning and clever use of the gravity mechanic. Whether you hone your skills in single-player mode or challenge friends in multiplayer games, Gravity Soccer keeps you on your toes throughout.
In this enthralling game of wits and tactics, every shot counts - the precision of your aim, the angle of your kick, even the velocity at which you hit are all crucial components to outsmarting Gravity Soccer's ingenious puzzles. Painstakingly crafted levels paired with an intuitive interface makes every moment in this game a delight for puzzle aficionados.
To conclude, Gravity Soccer is a delightful melange of mental gymnastics and footballing prowess. It has successfully merged the love for soccer into an engaging brain teaser, making it an essential addition to any gamer's collection who appreciates both sports and puzzles. If you're all about outsmarting your opponent with strategic brilliance in any game landscape - whether it be virtual football fields or mind-bending mazes - then Gravity Soccer should be next on your gaming roster.
What are the best online games?