Grand Nitro Formula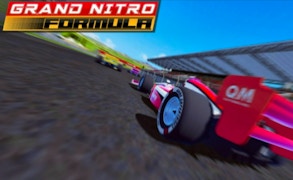 Grand Nitro Formula
Enter the world of high-speed action with Grand Nitro Formula, an exciting contribution to the realms of car games, driving games, simulator games, and skill games. This adrenaline-pumping game plunges you straight into the heat of a racing championship where only the fastest survive and only the most skilled triumph.
Ride on the wings of exhilaration as you navigate through practice races, time attack races, or for those truly looking for a thrill, steel your nerves and tackle the championship. But what sets Grand Nitro Formula apart from other racing car games isn't just its hair-raising speed or nerve-wracking turns; it's the palpable sense of being in control.
This game delivers an intensity that few driving games can match, leveraging both simulator game realism and skill game strategy. As soon as you slide into your formula car's driver seat, you'll experience an intense interplay between raw power and refined skill. This isn't just another of the run-of-the-mill driving games. It's a chance to test your mettle against some of the toughest tracks and most formidable opponents!
Grand Nitro Formula also boasts a wide range of customization options that make your gaming experience truly personalized. Choose from an array of impressive formula cars, each ready to roar to life at your command. Then trick them out with a host of upgrades that'll make your ride as unique as your racing style.
Grand Nitro Formula is not just a car game; it's a journey that takes you from being a rookie racer to becoming a true champion in the world of driving games. If you're ready for high-octane action against some seriously challenging competition - then strap in for this ultimate simulator skill game rush! Where will your speed take you? Let's find out in Grand Nitro Formula.
What are the best online games?