Fruit Match 3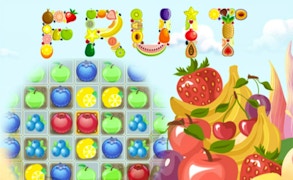 Fruit Match 3
Step into the vibrant world of Fruit Match 3, a compelling entrant in the realm of match 3 games and brain games that shines through its engaging gameplay. Immerse yourself in an orchard of puzzle-solving, where you aim to cleanse the garden of its dirty cells, adding a unique twist to the classic match-3 mechanism.
The core gameplay revolves around matching three or more identical fruits arranged either horizontally or vertically. However, Fruit Match 3 rises above your average match 3 game by throwing locked fruits into the mix. These immovable obstacles truly put your puzzle-solving abilities to the test, enhancing the game's value as an exceptional brain game.
A further unique attribute in Fruit Match 3 is its utilisation of special symbols. By aligning fruits of a specific shape, you unlock explosive power-ups; such as bombs that blast away surrounding cells, crumps that eradicate a full row or column, flashes that eliminate all fruits of one type, and time symbols that afford precious extra seconds.
This intricate system fosters strategic thinking, where every move could bring you closer to victory or further muddy your board with dirty cells. Successfully clean all dirty cells within the time limit on each level and triumphantly progress in your fruit-filled journey.
Sprinkle in its vibrant graphics and a catchy soundtrack; Fruit Match 3 comes across as a delightful blend of challenging match-3 mechanics and intriguing brain game elements. This combination makes it a must-try for fans seeking an innovative addition to their collection of puzzle games.
In conclusion, whether you're a seasoned gamer hunting for your next challenge or someone seeking a fun way to keep your mind sharp, Fruit Match 3 is ready and waiting. Discover why it's fast becoming hailed as one of the most entertaining entries in match-3 and brain games today!
What are the best online games?
Tags