Fruit Master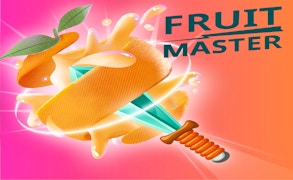 Fruit Master
Welcome to Fruit Master, one of the most vibrant and thrilling arcade games you'll ever come across. Let your fingers embark on a slicing spree as you try your best to dice and slice the fruits bounding across your screen. This game combines the joy of fun games with the thrill of swordplay from intense sword games.
What sets Fruit Master apart is the impressive array of fruits that take center stage. Imagine a deluge of fruits tossed into the air, with your mission being to slice them all before they fall. Sounds simple, right? Well, it's not as easy as it sounds, and that's where all the fun begins.
Each swipe feels like a sword dance in one of those action-packed sword games; each successful combo is an adrenaline rush. The goal? Cut the fruits, create a sequence for extra points and make sure to finish your fruit cocktail to progress onto the next level. And trust me when I say that each level outdoes its predecessor in terms of challenge and fun.
The term 'addictive gameplay' truly finds its definition in Fruit Master. Its simple premise, coupled with escalating challenges keep you hooked, making it difficult to put down at times.
Above all else though, Fruit Master is about skillful precision and timing; slice too early or too late and you'll lose out on that juicy point score. It's engaging, it's fun, and it definitely tests your reflexes.
To conclude, Fruit Master taps into our primal desire for enjoyable simplicity while delivering thrilling moments associated with exhilarating sword games. It's more than just another arcade game; it's an entertaining sensory experience that leaves you coming back for more. Take up your virtual blade play Fruit Master today!
What are the best online games?
TAGS