Formula Racing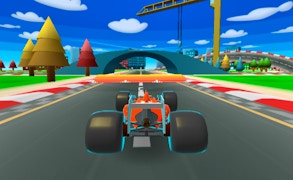 Formula Racing
Step into the world of high-speed adrenaline pumping action with Formula Racing, this breathtaking 3D car racing game is a tour de force in car games genre, where fun, thrill and skill come together in a spellbinding fusion.
Enjoy the exhilaration of driving games and the precision of simulator games, all wrapped into one tantalizing package. Each track showcases top-tier graphic design that takes you on an incredible visual journey as your race car hurtles down the path of victory.
The remarkable stunts you can perform will have your adrenaline levels skyrocketing as you spin, drift, and slalom your way past your competitors. The drifting mechanics redefine what a drifting game should be - it's not just about skidding around corners, but artfully balancing control and chaos.
In Formula Racing features three diverse game modes for an all-around racing experience that never gets old. The dynamic gameplay provides an edge-of-your-seat experience whether you're a seasoned gamer or new to the world of car racing games. It is more than just a racing game; it's about strategy, skill, and above all — thrilling speed.
No matter whether you're in love with simulator games or someone who's got a taste for relentless speed in driving games, Formula Racing rises above to give you an unforgettable gaming encounter that will have you coming back for more.
In conclusion, if an intoxicating mix of adrenaline and strategy is what revs your engine, then Formula Racing is the perfect pit stop for you. Take control of the speed demon within you and become the champion that every racing aficionado dreams of becoming.
What are the best online games?