Football Superstars 2022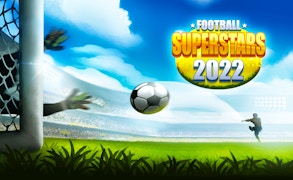 Football Superstars 2022
Description
Dive into the thrilling world of football with Football Superstars 2022. Engage in quick-paced, friendly matches, or challenge yourself by leading your fantasy team to victory in a pulsating World Tournament. The game offers a unique and refreshing take on mini soccer games, where the only limit is your passion and skill.
How to Play
To play Football Superstars 2022, navigate your players using the arrow keys and use the space bar to shoot or pass. As you master these controls, you can strategize to score goals and defend against opponents. Progression is made by winning matches and unlocking new levels in the World Tournament.
Tips and Tricks
Tactical decision making is key to victory in Football Superstars 2022. Always keep your eye on the opponent's movements and look for openings. Timing your passes precisely can set up excellent goal opportunities. Utilize all your team members effectively to outsmart the competition.
Features
Experience exhilarating friendly matches or intense World Tournament games.
Masterful controls that let you dictate every second of gameplay.
A dynamic AI that keeps you on your toes at all times.
Vivid graphics that bring every match to life.
What are the best online games?