Football Kick 3D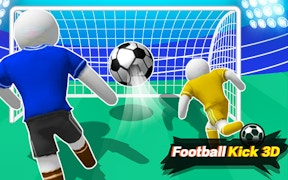 Football Kick 3D
Immerse yourself in the electrifying world of Football Kick 3D, a captivating online soccer game that promises to keep you on the edge of your seat. If you have a thirst for ball games, particularly those involving a thrilling game of football, then brace yourself - because Football Kick 3D is going to blow your mind!
The fierce competition in Football Kick 3D, one of the top online football games, will make you feel like you are in a real-life soccer match. The air is thick with tension as opposing teams vie to outscore each other before the clock runs out. This game isn't just about winning; it's about proving your mettle and demonstrating your skill against competitors who are relentless in knocking you down.
However, it's not only about defense, but also about an offensive approach where dribbling past opponents, tackling them head-on, and taunting them into losing focus become instrumental strategies for victory. And let's not forget the ultimate thrill - scoring goals. Whether it's a long-range stunner, an exquisite chip over the keeper's head or a well-placed penalty shot, every goal has its own unique charm that brings unparalleled excitement.
In soccer games like Football Kick 3D, there's always room for growth and improvement. So whether you're a seasoned pro or a newbie taking your first kick at the ball, this game guarantees unyielding entertainment with every match! So lace up your boots and get ready to showcase your soccer skills with Football Kick 3D - where every moment is an adrenaline-packed experience.
If you love ball games, if football courses through your veins, Football Kick 3D is made for you. This is not just another game, it's a journey in the dynamic world of soccer that's waiting for you to make your mark.
What are the best online games?