Fly Car Stunt 4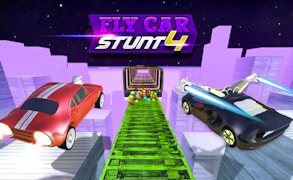 Fly Car Stunt 4
Get ready to soar the skies in the biggest update yet of a fan-favorite racing game, Fly Car Stunt 4. The latest installment in the popular car games series takes 'fast and furious' to an entirely unique territory - the clouds. As one of the top driving games on the market, it offers an unparalleled adrenaline rush.
The first thing that hits you in Fly Car Stunt 4 is its fleet of five new, exclusively designed FLY CAR models. Each model is meticulously crafted, showcasing a sublime combination of sleek aesthetics and aerodynamic functionality. But these aren't just pretty setpieces; they're high-octane machines fine-tuned for aerial control and breathtaking stunts.
Speaking of control, Fly Car Stunt 4 introduces all-new physics that grant you precise command over your vehicle mid-air. Turning sharp corners and performing jaw-dropping stunts has never been so smooth! Well-executed maneuvers are rewarded with vehicle upgrades, further enhancing your driving prowess.
A new addition to this version is a robust market system offering more powerful flying cars for those willing to invest their earnings wisely. With immersive realistic flying animations that blend perfectly with the robust physics engine, you'll swear you're actually piloting these gravity-defying machines!
A major selling point of this game is its compatibility for two player gaming. This makes Fly Car Stunt 4 stand out from other 2 player games, as it provides an exhilarating cooperative experience as you work together to complete progressively challenging levels and unlock new vehicles.
All things considered, Fly Car Stunt 4 pushes the boundaries of traditional car games by venturing into uncharted airspace. With its stunning graphics, improved physics and engaging gameplay, it truly is a game-changer in the world of driving games.
What are the best online games?