Fly Car Stunt 3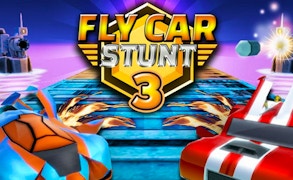 Fly Car Stunt 3
Hold on to your seats, racing game fans! Fly Car Stunt 3 is here to rev up your adrenaline and push the boundaries of car games. It's not just another addition to the driving games niche; it's a whole new experience that redefines the genre.
Delving into the game, you're instantly thrust onto neon-soaked roads with a futuristic theme. This isn't your regular tarmac; it captures the essence of a high-speed utopia. Your primitive gaming instincts awaken as you find yourself in an exhilarating head-to-head race in a sleek car fitted with fire wings.
Our beloved Fly Car Stunt saga has always managed to stay ahead of the curve and this third instality is no exception. If you thought you had mastered 2-player games, wait until you get caught in this spectacle of speed and strategy.
The controls? They've been reinvented for seamless navigation. The sensitivity and response are top notch, ensuring every turn, flip and swerve is executed with surgical precision.
Fly Car Stunt 3 presents you with 12 distinct levels that escalate in complexity as you progress. Each level ingeniously incorporates traps that catch you off guard, testing your agility and quick thinking. The tension these traps add makes every conquest all the more rewarding.
This isn't just a monumental party for speed freaks though; it's an intricately designed, heart-pounding journey that demands skill and smarts. Whether you're itching for a taste of turbo-charged action or seeking an ambitious addition to your collection of driving games, Fly Car Stunt 3 hits all the right notes.
What are the best online games?