Fly Car Stunt 2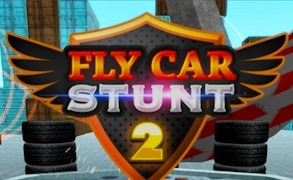 Fly Car Stunt 2
Engines at the ready, racing enthusiasts! Your adrenaline-pumping rendezvous with speed and excitement is here in the form of the ultimate sequel, Fly Car Stunt 2. One of the most exhilarating car games to hit the screens this year, it combines stunning gameplay aesthetics with hyper-realistic car physics.
The driving games landscape will never be the same after you've experienced the sophisticated feel of piloting a flying car. Regardless if you prefer to race solo or challenge your friends in mesmerizing 2 player games, Fly Car Stunt 2 offers an unmatched dimension of thrill and engagement.
The marvelously designed roads and landscapes are not just for visual appreciation. They're combat arenas where you must deftly navigate through a hurdle of obstacles, from swinging sledgehammers to electrical shocks. Each level brings its own unique challenges, testing your reflexes in ways that traditional car games simply can't.
An important part of Fly Car Stunt 2's mechanics is nitro; your key to accelerating across hazards and staying in the air longer. But be warned, it's not a free ride! Obstacles like axes, saws, and underground nails will resist your progress, bringing a tough yet rewarding complexity to these driving games.
So strap in and get ready to traverse through adrenaline-filled levels tailor-made for those who crave high-speed action. From spectacular flyovers to challenging physics-based stunts, Fly Car Stunt 2 adds a whole new dimension of fun and intensity to the genre of 2 player games. This game isn't just about racing; it's about surviving an aerial gauntlet at breakneck speeds—and loving every heart-stopping minute of it.
What are the best online games?