Flipper Dunk 3D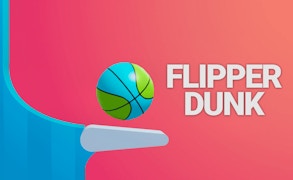 Flipper Dunk 3D
Description
Get ready for a thrilling, dunk-filled experience with Flipper Dunk 3D. As an exciting blend of arcade games and basketball games, it demands careful precision and utmost patience from its players. Your mission is to skillfully navigate the challenging world of hoops, mastering the art of dunking with a single tap. It's straightforward to learn but promises to keep you on your toes with its increasing difficulty levels. Brace yourself for the ultimate satisfaction when you finally make that perfect dunk!
How to Play
In Flipper Dunk 3D, your objective is to guide a basketball into the hoop using a simple, one-touch control system. Tap the screen carefully as timing matters immensely in this game. Note that adjusting the ball's trajectory is crucial for success. As you progress through each level, you'll encounter trickier hoops and obstacles. Always keep an eye on your path and make adjustments accordingly.
Tips and Tricks
Precision is key in Flipper Dunk 3D. Aim for perfect timing with every tap to successfully navigate through the tricky hoops and obstacles. Patience is another virtue; don't rush! It's better to take your time than lose a possible dunk by hurrying. Remember, practice makes perfect: keep playing to hone your skills.
Features
Addictive Gameplay: With engaging mechanics and escalating challenges, boredom isn't an option.
One-Touch Controls: Simple yet effective navigation allows players of all ages to enjoy.
Different Levels: A variety of stages promise endless fun and excitement.
Rewarding: Perfect dunks give immense satisfaction, making every attempt worthwhile.
What are the best online games?
Tags