Fit Balls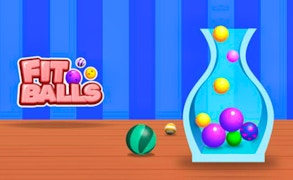 Fit Balls
If you're on the hunt for a puzzle game that combines the thrill of ball games with the relaxed nature of Hyper Casual Games, look no further than Fit Balls. This engaging game is sure to have you hooked from the get-go, as it requires strategic thinking and precision to successfully pour all the balls into the jar without causing an overflow.
Fit Balls, as its name suggests, employs a simple concept of fitting balls into a jar. This might seem straightforward, but once you dive into the gameplay, you'll find that it's anything but simple. It's like trying to fit a round peg into a square hole; it takes creativity, strategy, and a whole lot of patience.
The enthralling allure of this puzzle game lies in its challenging premise. With every level cleared, you're granted a sense of accomplishment and satisfaction that drives you to tackle the next one. The feeling of placing that last ball perfectly within your jar without crossing the top lane is akin to finding the final missing piece of a complex jigsaw puzzle - immensely satisfying!
While Fit Balls may fall under the category of Hyper Casual Games, don't let that fool you into thinking there won't be exciting moments throughout your gaming experience. Picture this: you're down to your last ball, your jar is almost at full capacity, and it's your final move. You release your breath as if blowing out a candle when that last ball tumbles in just right without causing an overflow.
In conclusion, whether you're an old-hat at ball games looking for a fresh challenge or new to the world of puzzles and seeking something fun yet manageable, Fit Balls is truly an addictive game that ticks all boxes.
Ready to put your strategic skills to test? Get playing on
Fit Balls
, where every mission completed means another mission awaiting!
What are the best online games?