Fish Story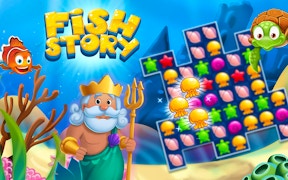 Fish Story
Dive into the enchanting world of Fish Story, an exciting addition to the array of match 3 games available in the gaming sea. This new prized pearl stands head and tail above the rest, immersing you in a brain-teasing adventure beneath the ocean waves.
Guided by the mighty Poseidon himself, you'll navigate through more than 700 vibrant, splashy levels filled with a variety of intricate puzzles. With aquatic aesthetics that will captivate your senses and tickle your intellect, Fish Story proves to be much more than just an ordinary animal game.
Solving puzzles can be a delight as you encounter daily missions that reward you with sparkling coins and boosters. For those up for a real challenge, earn extra stars in the daily challenge mode - your keys to unlocking treasure chests and gates leading to new routes. If you're one to dive deeper, regular Treasure Hunt events offer opportunities to hunt for sunken pirate treasures.
Fish Story is not shy about rewarding loyalty either. Stick with it and receive daily rewards for your dedication. After all, every player loves a good booty!
Drenched in vivid graphics and catchy tunes that remain long after you've stopped playing, Fish Story provides an all-around entertainment experience that's both fun and enriching- perfect for those who love flexing their grey cells. To sum it up, this game doesn't just tell a story--it allows you to forge your own underwater narrative filled with intrigue and enjoyment.
In conclusion, if you're looking for an ocean-themed brain game with a captivating storyline and engaging gameplay mechanics, then bait your hook and cast your line towards Fish Story. It's high time you reel in this whopper of a match-3 game today!
What are the best online games?