Fish Rescue Pull the Pin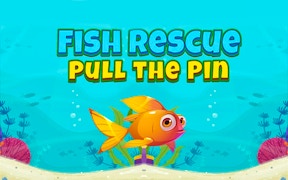 Fish Rescue Pull the Pin
Welcome to the mesmerizing world of Fish Rescue: Pull the Pin, the latest sensation sweeping through the realm of animal games and brain games. This game invites you to embark on a groundbreaking mission, rescuing our aquatic friends who've been tragically displaced from their natural habitat.
In this addictive puzzle game, your screen becomes a dynamic seascape with a complex design. You will see multiple niches, each separated by partitions - one niche holds the distressed fish while another contains life-giving water. The crux of Fish Rescue: Pull the Pin lies in your ability to strategically remove the right partition and guide water to our finned friend.
Your journey through this game is no ordinary swim in the ocean. It's a test of your analytical skills, as you carefully study each level's intricacies and make critical decisions that determine the survival of our aquatic comrades. Only precise moves and well-timed actions can save our fish from their predicament. Remove a partition too early or too late, and your rescue mission might end in disaster.
The design elements of Fish Rescue: Pull the Pin are not just visually captivating but also cleverly crafted to keep your brain cells firing on all cylinders. The game masterfully blends lively animal games elements with the intellectual rigor associated with top-notch brain games.
If you're craving for an enthralling gaming experience that challenges your intellect while immersing you in vivid underwater landscapes, don't miss out on Fish Rescue: Pull the Pin. Dive into this game now, help our scaly friends find their way home, and prove that you're not just a gamer but also a savior!
What are the best online games?
TAGS