Fish Love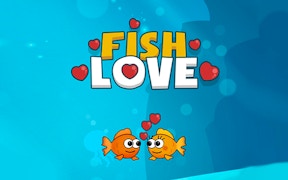 Fish Love
Immerse yourself in the aqueous world of Fish Love, a melodic fusion of animal games, brain games, and escape games ingeniously crafted for Kids. Fish Love not only enthralls with its vibrant graphics and harmonious tunes but also stimulates the grey matter, ranking it among the top piquant puzzle games for children.
Dive into a painstakingly vibrant and colorful underwater universe that virtually springs to life off your screen. Ingeniously designed levels infused with perilous obstacles like bombs, sinister crabs, and blistering lava add an element of thrill characteristic of popular escape games.
The aim? Safeguard your aquatic friends from danger and prove that love indeed knows no bounds. Yes! This game isn't merely a pastime; it also serves as an endearing reminder that just like these cute little fish, we all need love to survive.
The gameplay is backed by a background score so enchanting, every note will immerse you deeper into this underwater adventure. The sound effects are on point; the bubbles' gurgle, the soft splash of swimming fish all contribute to an authentic aquatic ambiance.
Adding to our brain games portfolio, Fish Love spruces up cognitive abilities in children by pushing them to think beyond the mundane. It's not just about bypassing the threat; it's about strategizing your way around it!
Fish Love
sets itself apart from other animal games with its unique blend of engaging gameplay and heartwarming narrative. Indeed, while solving puzzles keeps your brains refreshingly active, watching fish bond over mutual love tugs at your heartstrings.
In summary, Fish Love is a beautiful concoction of edutainment wrapped in layers of fun! So why wait? Embark on this adventure now! As they say, once you start playing Fish Love – good luck getting out of love!
What are the best online games?