Finger Soccer - World Cup 2022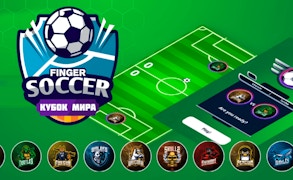 Finger Soccer - World Cup 2022
Description
Get ready for an exciting table-top sports challenge in Finger Soccer - World Cup 2022. A unique blend of classic board games and football, this exciting game transports you to the heart of a spirited world cup match. The objective is simple, use your finger to aim and shoot the ball into your opponent's net. Show off your skills in a thrillingly paced, strategy-oriented soccer game.
How to Play
To play Finger Soccer - World Cup 2022, simply click and drag across the screen to aim your shot, then release to launch the ball towards the goal. The game incorporates real-life physics, meaning the angle and strength of your shot matter. Progress through various stages by scoring more goals than your opponents within the game's time limit.
Tips and Tricks
In addition to a well-aimed shot, strategy also plays a crucial role. Positioning your player pieces in defensive formations can block opponent shots. Also, look for opportunities to make "bank shots" off the sides of the pitch for unexpected angles.
Features
Variety of Stages: Play through multiple stages with increasing challenges.
Realistic Physics: Plan your shots taking into account speed, angle and power.
In-game Boosts: Give your team an edge with tactical powerups during matches.
World Cup Adventure: Engage in an exhilarating virtual world cup journey.
What are the best online games?