Find Cat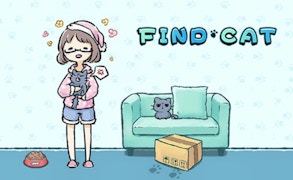 Find Cat
Welcome to the captivating world of Find Cat, the most charming addition to the realm of puzzle games, cat games and hidden object games that have been taking the gaming industry by storm. It's a delightful fusion of intrigue, challenge, and adorable kitten-driven entertainment.
The game follows the trail of an endearing British Shorthair Blue cat, your new feline companion in this enchanting adventure. But this isn't your ordinary house cat – oh no, it's an expert at one thing - hide and seek! One minute purring contentedly on your lap, the next, it vanishes into thin air. And so begins your thrilling quest - Where has your furry friend hidden? Underneath that plush sofa? Nestled amongst those toys? Or perhaps snuggled up inside Uncle's hatted sanctuary?
Find Cat truly stands out among other cat games. The charm of the British Blue – one of the finest specimens in animal games- combined with intricate puzzles and hidden object gameplay creates a unique gaming experience which hooks you instantly. The graphics are crisp; each hiding spot is crafted with attention to detail. Your task to locate the whiskered trickster becomes more riveting with each subsequent level.
The game brilliantly melds casual fun elements from hidden object games with brain-tickling puzzles designed to keep your gamer neurons firing on all cylinders. It's not just about finding our elusive kitty; it's also about figuring out how our cunning cat got there in the first place! Did it squeeze through that narrow gap? Or use its feline agility to leap onto that high shelf?
Wrapping up, Find Cat is a fantastic romp into the whimsical world of cats and puzzles - a delightful mix that will keep you entertained for hours on end. It's undeniably one of the must-play puzzle games. So jump in, start exploring, let's see if you can find where our furry friend has hidden today!
What are the best online games?