F1 Racing Game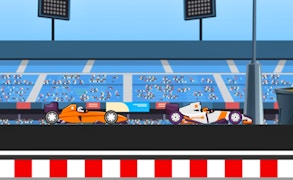 F1 Racing Game
Are you a captive enthusiast of the driving games genre? Can't get enough of high-intensity car games? Then brace yourself as F1 Racing Game takes you on a thrilling sprint around the adrenaline-fueled world of Formula 1 racing.
This outstanding racing simulation doesn't merely offer speed. It cranks up the intensity, delighting gamers with its perfect blend of strategic planning and split-second decision-making. As you plunge into its intricate world of customization, you'll find yourself immersed in not just one of many car games, but a uniquely captivating experience that redefines the genre.
You don't just drive in F1 Racing Game; you live every pulsating moment on the track. Each race is a nail-biting combination of strategic manoeuvring and all-out aggressive driving. Whether it's perfectly timing pit stops, negotiating hairpin turns at suicidal speeds or jostling for position with extremely competitive AI cars, this game demands hard-earned skill and raw determination to achieve victory.
The addictive nature of F1 Racing Game extends to its customization features as well. It allows players to augment their cars not only visually but also performance-wise. You have the freedom to tailor your vehicle, making it reflect your driving style and racing spirit - a feature that truly sets F1 Racing Game apart from other mainstream driving games.
Last but not least, with an incredible line-up of 30 levels, F1 Racing Game ensures endless hours of high-octane entertainment. Each level brings new challenges and excitement, pushing players to improve their skills and strategies continuously.
In conclusion, if you're thirsting for speed and strategy or hunting for top-tier car games, leap into the driver's seat of F1 Racing Game! It offers an unrivalled racing experience that will satisfy your craving for speed and strategy like no other game out there.
What are the best online games?
Tags