Extreme Thumb War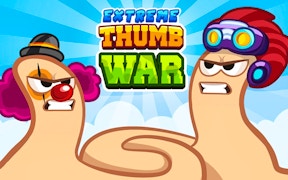 Extreme Thumb War
Thumb fighters, rejoice! The furtive battles of our childhood have been brought to life in the digital world with Extreme Thumb War. This engaging title perfectly combines the thrill of battle games with the simplicity of Hyper Casual Games, making it an absolute must-play for all game enthusiasts. Perfect for those quick gaming sessions on your morning commute or long drawn out battles against friends, this is a game that caters to everyone.
You might be wondering, what makes Extreme Thumb War stand out among other 2 player games? Well, it comes down to the sheer variety of thumb characters to choose from. With over twenty unique thumb characters at your disposal, you're guaranteed to find a fighter that suits your style. Whether you're a fan of sleek and stealthy or big and powerful, there's a character here for you.
The game also employs an ingenious health bar and power bar system. On entering the arena against a friend or CPU opponent, gauge your power bar ahead of each strike. This allows players to plan strategic attacks rather than simply bashing thumbs until one succumbs. Herein lies the game's true challenge — managing your health and power bars efficiently while trying to decimate your foe's finger.
In conclusion, Extreme Thumb War proves that simplicity does not hinder complexity or depth in gameplay. Instead, it emphasizes skill over happenstance and strategy over brute force. If you are on the hunt for a fresh take on battle games or simply want to relive the glory days of playground thumb wrestling but in a digital format, then look no further than Extreme Thumb War!
What are the best online games?