Extreme Hand Slap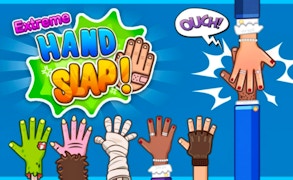 Extreme Hand Slap
I've had the pleasure of sinking my gamer's teeth into the electrifying world of Extreme Hand Slap, a battle game that takes a universally loved pastime and reinvents it for our screens. This game proves that sometimes, it's the simplest concept that makes for some really fun games.
The essence of this battle game is nestled in its simplicity: pick your hand model and let the challenge unfold, either on your phone, tablet or PC. If you have a friend around (virtually or in real life), rest assured Extreme Hand Slap lives up to its tag as one of the most engaging 2 player games. It's like an electrifying game of tag, but with hands!
The controls are straightforward: 'W' and 'UP ARROW KEY' for keyboard users and simple touch control for mobile gamers. It couldn't be easier to pick up and play, which is what makes this one of those perfect Hyper Casual Games.
The beauty lies in its undisturbed flow, making each encounter feel like an epic duel! There's nothing quite like demolishing your opponent's confidence with a timely slap. As old school as it sounds, there is an undeniable satisfaction derived from this timeless activity converted into a digital format.
In conclusion, Extreme Hand Slap serves up not just nostalgia but also a hastily paced battle experience that feels refreshingly novel. Whether you're looking for engaging 2 player games or just some easy-to-grasp fun games to kill some time, Extreme Hand Slap is definitely worth checking out.
What are the best online games?