Extreme Car Driving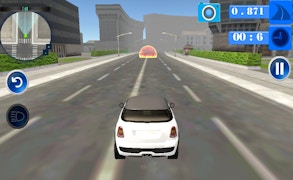 Extreme Car Driving
Step into the adrenaline-pumping world of Extreme Car Driving. One of the trendsetting car games designed to immerse you in a realistic driving experience that will leave you craving more. Unleash your inner racer and conquer the streets with style.
Extreme Car Driving is not just any game; it's a thrilling, heart-racing test of skill that will have you pushing boundaries and breaking speed limits. As a highlight amongst driving games, it offers an unmatched level of realism and immersion. The game's freedom, lack of time constraints, and obstacles make it more than just a game - it's a Zen-like experience where you're free to explore the city at your own pace.
The attention to detail in this masterpiece is second to none. From the physics that mimic real-world driving dynamics, down to the intricate details of each car's interior, this game is truly an ultimate simulator game.
The joy of driving lies not just in reaching your destination, but also in the journey itself. And boy does Extreme Car Driving deliver on that front! Choose from an array of cars and take them for a spin down empty streets where speed limits do not exist. You can explore new cities or simply enjoy cruising around familiar landscapes - all at your leisure.
No car enthusiast should miss out on such an exhilarating experience. The thrill-seeking gamer inside you will revel in the challenge while the mellow cruiser within will appreciate the serenity. It's a balance seldom struck in racing games but Extreme Car Driving nails it effortlessly.
In conclusion, whether you're a seasoned racer or someone looking for some casual entertainment, Extreme Car Driving is one car game that should be on your radar. It's not just about driving - it's about experiencing life behind the wheel like never before.
What are the best online games?