Epic Defense Clash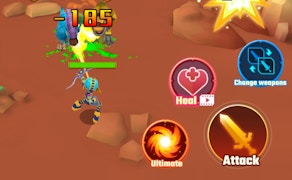 Epic Defense Clash
Welcome to a compelling universe filled with ferocious beasts and relentless combat; welcome to Epic Defense Clash - a game that amalgamates the essence of battle games, sword games, survival games, knight games, monster games, archery games, dragon games, and even dinosaur games. This enthralling action game will take you on a ride of a lifetime; a ride where you'll confront your deepest fears and emerge victorious.
Epic Defense Clash's premise is simple yet invigorating: you are thrown into an intense battlefield against fierce monsters, wielding weapons as your only saving grace. The game thrives in its ability to fuse elements from various genres seamlessly into one thrilling gameplay experience.
Ranging from wielding powerful swords in deadly duels to employing strategic archery skills for long-ranged attacks, this game will test not only your gaming prowess but also your survival instincts. You will battle dragons that spew fiery death from above and ferocious dinosaurs that shake the very ground beneath you. At its core, Epic Defense Clash is a symphony of chaos and strategy – guiding you through a wild odyssey where every move could mean the difference between survival or demise.
But most importantly—it is the embodiment of the quintessential knight game. In amidst of darkness and destruction, you rise as the knight—brave and resolute. With each monster slain and every battle won, you become more than just a player; you become an emblem of bravery.
Epic Defense Clash is thus much more than just another action game—it's an adrenaline-fueled adventure filled with exciting battles, ferocious monsters, and nail-biting survival situations. It's an expedition through uncharted territories—a testament to your courage against all odds.
If action-packed battlefields paired with nerve-wracking suspense are what thrills you then Epic Defense Clash should be the next addition to your gaming collection!
What are the best online games?