Endless Car Chase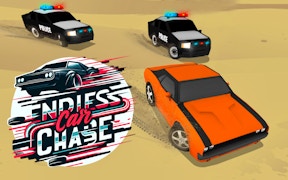 Endless Car Chase
Description
Experience the thrill of a high-speed pursuit in Endless Car Chase. Engage in heart-pounding chases through bustling city streets as you outrun law enforcement. Along the way, collect cash and power-ups that can give you an edge. The game offers vast customization options, letting you modify the environment, car models, and soundtrack to create a truly personalized gaming experience.
How to Play
The game comes with easy-to-master controls. Use your keyboard's arrow keys or touchscreen to navigate your car smoothly through the streets. Collect cash and power-ups, while evading the police. The more you collect, the higher your score will be. Remember, it's not only about outrunning police but also deftly maneuvering through traffic and obstacles.
Tips and Tricks
You'll need to stay one step ahead of law enforcement to achieve high scores. Utilize collected power-ups wisely as they provide temporary advantages like speed boosts or invincibility. Remember, avoiding obstacles is equally important as maintaining speed. Taking sharp turns may help to shake off the police.
Features
Action-packed gameplay: Race against time and dodge authorities in high-speed chases.
Collections: Gather cash and power-ups as you progress.
Variety: Wide range of cars available for selection.
Highly customizable: Change environments, cars and music for a personalized experience.
User Friendly Controls: Easy to master navigation using keyboard or touchscreen.
What are the best online games?
Tags