Emoji Puzzle!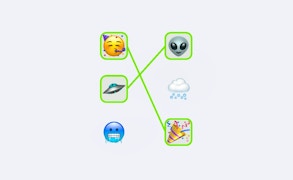 Emoji Puzzle!
Get ready to be transported into an exciting world of whimsical cognition with the latest entrant in the fun games category, 'Emoji Puzzle!'. This game is nothing but a joyful mix of Hyper Casual Games and brain games. It is your chance to entertain yourself while giving your brain a healthy exercise.
As simple as it may sound, Emoji Puzzle! is not just about connecting pairs of emotions. It's a journey into the realms of creativity and imagination where you must bond emotions by knotty associations. This spirited twist on classic pair matching games will have you hooked in no time.
The gameplay involves tapping one by one on the elements from different columns to connect them with a line or simply dragging to draw a line to connect these diverse elements. The mechanics are straightforward, yet the game is anything but. Each level seems easy at first glance until you dive in, only to realize that it's harder than you think!
This interesting blend of simplicity and complexity makes Emoji Puzzle! one of those rare fun games that not only serves as an entertaining pastime but also kindles your mental faculties. Every puzzle will force you to think out-of-the-box and find the idea hiding behind each pair of emojis.
If you're looking for an easy-to-learn experience yet hard-to-master game, or if you're into brain games, or simply want to add another gem to your collection of Hyper Casual Games, then 'Emoji Puzzle!' is definitely worth a try. Remember, it's not about how fast you can complete each level but how well you grapple with its underlying concept. Happy puzzling!
What are the best online games?