Dunk Shot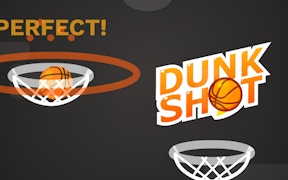 Dunk Shot
Welcome to our review of Dunk Shot, a spectacular addition to the realm of ball games and basketball games. If you're a fan of sports, skill games, or just looking for fun games to pass the time, we've got a hot pick for you.
Dunk Shot, with its arcade-style gameplay and intuitive controls, brings the thrill of shooting hoops right to your fingertips. This is not just another ball game. It's an adrenaline-pumping, non-stop dunking frenzy that will keep you coming back for more.
In Dunk Shot, your mission is simple yet captivating: Shoot the hoops, score points, unlock new balls, and rise to basketball stardom. But don't be fooled by its simplicity. Behind this straightforward concept lies an immense layer of depth and strategy that qualifies Dunk Shot as a standout among skill games.
What sets Dunk Shot apart from other basketball games is its fluidity and responsiveness. Every shot feels meaningful, every point earned feels satisfying. The use of realistic physics in this game makes every throw a unique experience, providing endless hours of fun as no two throws are ever the same.
The game also shines in terms of replayability. The process of unlocking new balls offers an addictive progression system that will have players eager to shoot hoop after hoop. It's one feature that adds an extra layer of excitement and makes Dunk Shot a genuinely fun game.
In conclusion, if you're on the hunt for addictive ball games or exciting basketball games that test your skills and offer endless fun, look no further than Dunk Shot. It's more than just a game; it's an invitation to join in on the playground for unlimited basketball action!
What are the best online games?