Dunk Ball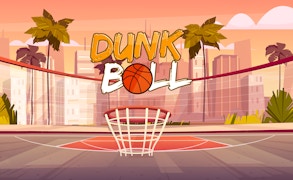 Dunk Ball
Description
Dunk Ball game is an exciting sports-based game that brings the thrills of basketball right to your device. The focus of the game is on scoring points by aiming each ball into the moving basket. Show off your agility, precision, and timing as you handle each ball with finesse and drop them into the basket for maximum points.
How to play
To play Dunk Ball, simply move your basket left or right to catch the ball as it descends from above. It requires sharp reflexes and strategy to ensure each ball falls perfectly into the basket. As you progress, the game's tempo increases, demanding more skill, attention, and faster reactions for scoring.
Tips and Tricks
Keep your eyes on the ball at all times to accurately predict its trajectory. Remember, it's all about timing. Do not rush; instead, time your movements to align with the ball's descent for a perfect score. Also, try mastering one level before advancing to higher levels.
Features
Dunk Ball offers:
An immersive basketball experience with impressive graphics.
A test of agility and accuracy through challenging levels.
A chance to improve your basketball skills virtually.
A dynamic pace that keeps you engaged and entertained.
What are the best online games?