Dungeon Chess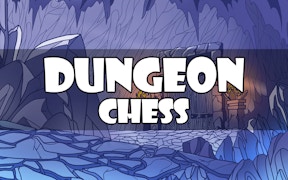 Dungeon Chess
Description
Step into the world of Dungeon Chess, a strategic puzzle game that cleverly integrates elements of role-playing and roguelike games. In this thrilling dungeon crawler, you'll lead your hero by manipulating chess-like cards to outsmart and overcome monstrous adversaries. With a balance between tactics and luck, each play session presents an enticing challenge on its compact dungeon board.
How to play
No previous chess knowledge? No problem! Dungeon Chess gets you acquainted with its rules in no time. Your actions are guided by a deck of chess pieces that pit against the monster-ridden dungeons. Use your items wisely for card upgrades and gain extra abilities to survive bolder runs. Careful planning becomes crucial as you brave three unique dungeons with six different characters.
Tips and Tricks
Analyze your enemies' abilities, as understanding them can tip the scales in your favor. Experiment with different characters to find one that matches your playing style, but remember: no risk, no reward! Take advantage of the endless dungeon mode after finishing main quests to hone your skills and explore new tactics.
Features
Crafty integration of chess-inspired mechanics within a roguelike RPG scenario.
Six distinctive characters, each providing different strategic options.
Three unique dungeons, demanding careful navigation and tactical prowess.
A range of difficulty modifiers that intensify challenges for veteran players.
An endless dungeon mode for further exploration and practice after completing main quests.
What are the best online games?
Tags