Dual Control Racing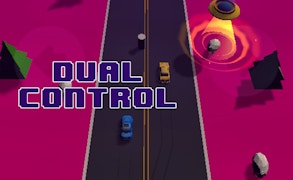 Dual Control Racing
Description
Dual Control Racing is an exhilarating game that challenges your driving and multitasking skills. The goal of this game is to control two racing cars at the same time while avoiding obstacles and striving to reach the finish line. It's deceptively simple but demands precision, concentration, and strategy.
How to play
To control the cars, simply use the arrow keys on your keyboard. Each key press will move both cars simultaneously. Carefully balance your movements to avoid hitting any obstacles or running off the track. Success in this game calls for perfect timing, sharp reflexes, and well-planned strategies. Keep your eyes on both vehicles and ensure you navigate through the racetrack safely.
Tips and Tricks
To excel in Dual Control Racing, your focus should not be solely on speed but more on precision and accuracy. Always anticipate bends in the road ahead of time so you can adjust your car's position accordingly. Try keeping both cars in sync; it makes control a lot easier.
Features
Multi-tasking challenge: Control two cars at once for double the fun.
Intricate obstacles: Enhance your skills by navigating through different barriers.
Sleek Graphics: Enjoy high-quality visuals that add to the game's exciting feel.
Addictive Gameplay:The challenge of controlling two vehicles simultaneously keeps players hooked.
What are the best online games?