Driving Test Simulator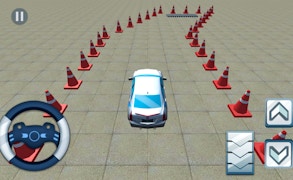 Driving Test Simulator
Step into the virtual cockpit and experience the thrill of the open road with the groundbreaking Driving Test Simulator, a game that expertly combines elements of car games, driving games, skill games, parking games, and simulator games.
With its state-of-the-art 3D game engine, Driving Test Simulator offers an unparalleled level of realism. Feel the hum of your car's engine vibrating in your fingertips as you navigate through the game's detailed environments. Experience that all-too-familiar tension as you guide your virtual vehicle into a precariously tight parking space with precision and finesse. Indeed, this isn't just another one of those dime-a-dozen car games; it's a testament to the power of gaming technology.
What sets Driving Test Simulator apart from other driving games is its challenge to both your dexterity and strategic thinking. Each level features a designated parking position which you must reach without causing any accidents. A seemingly simple task transforms into an adrenaline-fueled challenge as you face a myriad of obstacles designed to test your driving skills to the limit.
Further elevating this gaming experience are numerous levels designed to continually push your driving skills. So if you're a fan of car racing games eager to demonstrate your prowess behind the wheel, buckle up for a wild ride in Driving Test Simulator!
In conclusion, Driving Test Simulator delivers on all fronts for fans of car games, skill games, and parking games. From its impressive 3D visuals to its addictive gameplay mechanics, this offering truly stands out in the oversaturated market of simulator games. Whether you're a seasoned driving game veteran or just looking for an exciting new gaming challenge, Driving Test Simulator is guaranteed to rev your engine.
What are the best online games?