Drive Taxi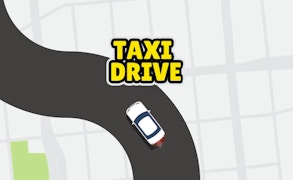 Drive Taxi
Immerse yourself in the fast-paced, adrenaline-pumping world of Drive Taxi, a standout within the realm of car games and driving games. Whether you're a seasoned gamer looking to steer your skills into a new territory or just an everyday hustler yearning for the simulated thrill of life from behind the wheel, Drive Taxi is sure to fuel your excitement.
Navigating through city streets to pick up passengers and drop them off at their desired destinations is not as easy as it seems. This game isn't just about cruising down lanes; it's about strategizing routes, dodging relentless traffic, and racing against time. A perfect blend of chaos and challenge that ensures a captivating playing experience. Sure, you have heard of car games but Drive Taxi injects fresh energy into the genre.
The game's design is a visual treat embellished with engaging gameplay mechanics. But caution! The road ahead teems with cars ready to disrupt your momentum. In this pulsating world of driving games, Drive Taxi demands not just fast reflexes but ingenious strategy - delivering passengers becomes a gripping challenge!
The catch? Forget not your sole duty: picking up passengers. A forgotten passenger can cost you dearly in this race against time. Swooping sharp turns while nimbly skirting through traffic makes Drive Taxi one of the most exhilarating car games out there.
Whether you're looking to let off some steam after a daunting day or engage in an exhilarating race against time, Drive Taxi stands as an enchanting entry among driving games. Its unique blend of strategic maneuvering and high-speed action offers a compelling twist on familiar car games, ensuring it will rev up your gaming experience.
In conclusion, if you've got the need for virtual speed blended with intense strategy, buckle up for Drive Taxi – it's one ride you don't want to miss in the universe of captivating driving games. So gamers, grab that steering wheel...your passengers are waiting!
What are the best online games?
TAGS