Dream Life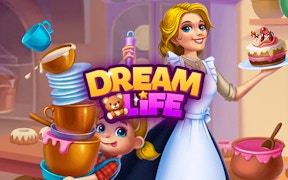 Dream Life
Immerse yourself in the colourful, captivating world of Dream Life, the latest entrant in the ever-popular genre of match-3-games. This fun-filled, interaction-based puzzle game promises a unique gaming experience like no other. Step into a playful universe where your tactical skills and strategic thinking will be put to test.
The central premise of this delightful game is simple yet addictive – reposition objects to match them and eliminate these items. Triumph each level and reap your well-deserved rewards. A seamless blend of complexity and simplicity, Dream Life's gameplay ensures you remain hooked for hours on end.
A highlight of Dream Life is its rich, diverse match-3-levels. With each new level, you are introduced to a fresh set challenges that escalate in complexity as you progress. The thrill of overcoming these hurdles is what keeps you glued to Dream Life.
Breathe life into your gaming session with cute, vivid level elements. The vibrant visuals are not just an aesthetic treat but also add an additional layer of intrigue to the gameplay. Attention to detail sparks curiosity as you navigate exciting puzzles in this compelling journey.
Dream Life offers an intriguing match-3-adventure-journey unlike any other. Be it the fascinating puzzles or the visually appealing graphics, this game guarantees an unforgettable gaming experience. So gear up for an engaging expedition full of whimsy and wonder with Dream Life!
What are the best online games?
Tags