Drag Racing Rivals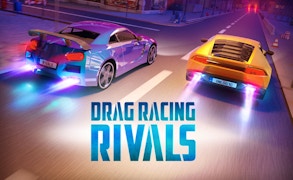 Drag Racing Rivals
Step into the high-octane world of Drag Racing Rivals, an incredible homage to the underground street races that will keep your adrenaline pumping and your heart racing. This game is a must-try for fans of car games and driving games, sculpted to perfection with elaborate mechanics and a wide array of unique, customizable cars.
The thrill that comes from revving up your engine, eyeing up your competition, and timing that perfect shift into overdrive as you speed down the road cannot be understated. Drag Racing Rivals isn't just another game; it's an experience soaked in the grungy glamour of underground street races.
The game shines brightest in its car customization - with each win giving you access to cash to upgrade your ride or buy new, more powerful machines. Max those upgrades out and show off your sleek machine to the rest of the drag racing clans! The breadth of customization options available ensures that no two cars are alike - each one is a testament to its owner's tastes and strategic choices.
Coupled with its rewarding progression system, Drag Racing Rivals keeps you hooked, race after race. There's nothing quite like watching your hard-earned upgrades making a tangible difference on the race track. Whether it's tweaking the engine for maximum performance or visually enhancing your car for bragging rights - every decision matters.
Rivalries form the beating heart of this game; competition fuels everything, pushing you to step on the gas harder and drive smarter than ever before. You'll find yourself inching towards absolute dominance within these drag racing clans, asserting your power on the city streets one race at a time.
In conclusion, Drag Racing Rivals brings together elements gamers love most about car games and driving games. It's an intoxicating mix of tension-filled races, deep customization, and real-time rivalry that will leave you craving more asphalt conquests.
What are the best online games?
Tags