Drag Racing 3D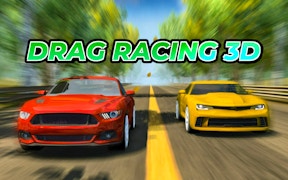 Drag Racing 3D
Welcome to the exhilarating world of Drag Racing 3D, a game that fuels your need for speed and tests your driving skills in the most mind-blowing way! This isn't just one of those run-of-the-mill car games; it's a thrilling challenge for all the adrenaline junkies out there who crave high-octane driving games.
Imagine this: you're at the starting line, your hand hovers anxiously over the gear shift, your heart pounding like a drumbeat in sync with the roaring engine of your chosen car. As soon as you hear the start signal, it's a mad dash against artificial intelligence opponents that are as ruthless and precise as they come. And how you fare depends solely on your skill.
The beauty of Drag Racing 3D lies not only in its impressive 3D graphics but also in its sophisticated mechanics. It's not enough to stomp on the accelerator and hope for the best - timing is everything here. Switch gears at exactly the right moment to maintain your speed advantage, but be warned - being too early or too late will cost you dearly.
Your choice of car isn't merely aesthetic either. The different cars in Drag Racing 3D offer unique performances on track, some providing an extra edge when you perfectly nail that gear shift timing. So go ahead, pick your dream ride and get ready to leave everything on the asphalt!
To sum up, if you're a fan of skill-based car games where every second matters, Drag Racing 3D is a must-play. Its beautiful design, challenging AI competitors and high-speed action will keep any driving games enthusiast on their toes – or more aptly – firmly pressing down on their virtual accelerators. Buckle up and experience racing like never before!
What are the best online games?