Drag Racing 2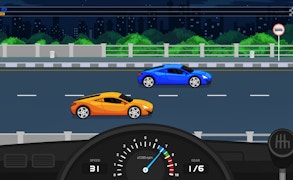 Drag Racing 2
Rev your engines and prepare to take the fast lane with Drag Racing 2, the epitome of high-octane car games. This adrenaline-fueled race to the finish line will leave you craving for more, securing itself as a sure-fire hit in the realm of driving games.
The game is aptly named, as it catapults players into the exhilarating world of drag racing. This isn't your average Sunday drive. In Drag Racing 2, you're the master of a high-speed beast, tearing up asphalt with phenomenal precision. The sheer pace and intensity are undeniable; it's a visceral drive straight into the heart of speed itself.
This game boasts an impressive fleet of cars, each meticulously designed and begging to be driven. The attention to detail is nothing short of astounding. It's clear that this wasn't just another addition to the endlessly growing list of car games. No, Drag Racing 2 stakes its claim as one of the premier driving games, standing head-to-head with genre giants.
Dive headfirst into this thrilling racing experience where skill trumps luck every time. The races are incredibly tense affairs; every start is a clash of titans, every finish a photo finish that would make any racing fan swell with pride.
The power to modulate your car's performance takes this game from being merely good to great. These minor tweaks can make or break your ride.. experiment with different combinations and find what works best for you.
In summary, Drag Racing 2 is an absolute must-play for any serious fan of car games. It provides an addictive blend of strategy and skill that will provide countless hours of entertainment. Don't just witness the excitement; be part of it in Drag Racing 2!
What are the best online games?
Tags