Donut Lover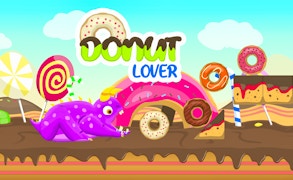 Donut Lover
Description
In Donut Lover, you're faced with a quirky challenge that involves feeding a perpetually hungry creature who craves nothing but donuts. Your mission is to ensure that he gets his fix, moving you up to the next level. The adventure is enhanced by the different varieties of donuts you acquire from the in-game store.
How to play
To play this game, you need to deliver donuts to the insatiable manster using your computer mouse or touch screen. The more donuts he eats, the more points you score, facilitating your progression to the subsequent levels. You can purchase various types of donuts from the in-game store to add a unique twist to your gameplay.
Tips and Tricks
In order to succeed, focus on fast delivery. The quicker you feed the manster, the higher your score will be. Also, considering investing in buying new types of donuts from the store as they may offer higher points or bonuses.
Features
The key features of this game are:
A loveable yet perpetually hungry main character (the manster)
Challenging delivery tasks that test your speed and precision
A variety of delectable donuts available for purchase in the in-game store for exciting gameplay variation.
Pleasant graphics that create an enjoyable gaming environment.
What are the best online games?
Tags