Dog Puzzle Story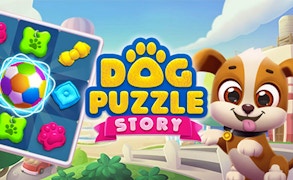 Dog Puzzle Story
Immerse yourself in the vibrant and whimsical world of Dog Puzzle Story, a delightful amalgamation of animal games and match 3 games. It's more than just a dog's life in this puzzling adventure that tests your skills and tickles your sweet spot for all things canine.
The game beckons you into a journey with Charlie, the game's cute puppy protagonist. A lively digital pet, Charlie is not only your loyal companion but also your key to unlock the next exhilarating level. Your task is simple yet highly addictive: Help him find his cherished possessions - dog pillows, toys, and treats scattered all over his garden.
Dog Puzzle Story is more than just another entrant into the realm of animal-themed match 3 games. Unlike most brain games, it manages to strike a sweet balance between stimulating challenges and entertaining gameplay. With its colourful puzzles that span all degrees of difficulty, it keeps you perpetually engaged while ensuring you never feel overwhelmed.
The fun factor of this game doesn't discriminate - it captivates children as much as it does their parents, making it an ideal family entertainer for hours on end. This interactive game also serves as an excellent tool for fostering quick-thinking abilities and problem-solving skills in young minds.
In conclusion, whether you are a seasoned gamer or a casual player looking for an enjoyable pastime, Dog Puzzle Story caters to all. It transcends typical match 3 gaming norms by beautifully integrating elements of animal games into its gameplay while stimulating your brain muscles. So take up the challenge - join Charlie on his quest and embark on an unforgettable puzzle-solving adventure!
What are the best online games?