Dino: Merge and Fight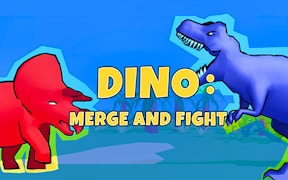 Dino: Merge and Fight
Introducing Dino: Merge and Fight, the game that takes you back to a prehistoric battleground where survival is won through strategic alliances and brute strength. Have you ever envisioned yourself leading an unstoppable army, conquering the world with the might of dinosaurs? Your adventure starts here. Unite warriors, tame powerful dinosaurs, and let the battles commence!
Gameplay
Within Dino: Merge and Fight, your task is more than mere survival; it's about mastery and conquest. This game intricately blends strategy, merging, and action, making it an exhilarating experience. From uniting warriors to capturing enemy fortifications, every decision counts.
Why Play Dino: Merge and Fight?
In Dino: Merge and Fight, you're not just a player; you're a commander, a strategist, a leader of warriors. Merge your warriors to form a stronger, more resilient army, and let your dinosaurs lead the charge. The thrill of battle, the excitement of conquest, the satisfaction of victory – it's all here, waiting for you. Are you ready to unleash the power within and capture enemy fortifications?
Conclusion
With its enticing blend of strategy and action, Dino: Merge and Fight invites you to a world where your choices shape your destiny. Build an army, tame the mightiest of dinosaurs, and embark on a quest for world domination. Join the fight today!
What are the best online games?