Digitz!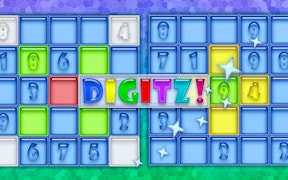 Digitz!
Calling all brain game enthusiasts, number crunchers, and math mavens! If you're in the market for an addictive puzzle experience that ignites your cognitive abilities while providing hours of entertainment, then your search ends with the captivating title known as Digitz!
This game is a remarkable blend of classic Lines and Sudoku games, wrapped into one mind-boggling package that suits gamers of all ages perfectly. Digitz! offers something for everyone - whether you are a seasoned puzzle solver or just dipping your toes in the fascinating world of number games.
The strength of Digitz! lies in the simplicity of its rules layered over an intriguing and challenging gameplay. It utilizes simple Math to create puzzles that are anything but basic. The game manages to ensure you're always on your toes trying to handle a numerical labyrinth that'll put your mental agility to the test.
The euphoria of solving each stage is magnified by the fact that every solution is like a key, unlocking another level loaded with exhilarating challenges. This makes Digitz! feel like a progress-oriented journey, not just another one-off puzzle game.
If you've ever enjoyed the thrill of cracking codes, untangling mysteries or simply appreciate the elegance of numbers, Digitz! would feel like a playground. This math game offers more than just calculations; it lights up multiple areas of your brain and stimulates critical thinking.
In conclusion, Digitz! combines enjoyable gameplay with intellectual stimulation and appeal. It's not just about matching digits; it's about embracing challenges and continuously pushing boundaries - a true testament to what an engaging brain game should be!
What are the best online games?