Diggerz.io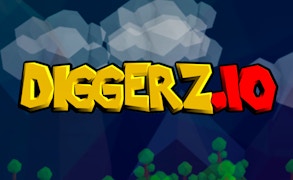 Diggerz.io
If you're a fan of battle games or battle royale games, then you're in for a treat with Diggerz.io. This 2D Battle Royale game packs quite the punch, promising an immersive gameplay experience that involves a strategic combination of digging and battling. Reminiscent of the beloved classic Worms series by Team17, Diggerz.io puts an innovative spin on arcade-style combats.
The controls are quite straightforward, making onboarding a breeze even for beginners. For movement, use the WASD keys; aim and shoot with your cursor and click; zoom in and out by scrolling up or down on your mouse. The weapon selection is conveniently located at the bottom of your screen - facilitating snap decisions in the heat of the game.
As you delve deeper into this game, you'll find that there's more to it than meets the eye. Dig your way through varied landscapes or build fortifiable defenses - either way, adrenaline levels are guaranteed to skyrocket as you outwit and outmaneuver opponents in this captivating underground battlefield.
The creative minds behind Diggerz.io are from Coaster Labs, who have clearly proven their expertise in crafting engaging multiplayer games that bring people together from across the globe. Diggerz.io is undoubtedly no exception.
In conclusion, whether you're looking for a fast-paced game to play during breaks or something more substantial to sink your teeth into after hours, Diggerz.io is sure to satisfy. It's an exciting journey into the world of battle royale games where only the fittest survive. So gear up, get digging and battle it out with players around the world!
What are the best online games?