Dice Mania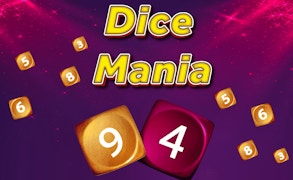 Dice Mania
Description
Dive into the world of numbers with Dice Mania, an enthralling online game that pits your numerical sorting skills to the test. Engage in intense competition against players globally as you strive to achieve the highest score. Heighten your excitement, sharpen your strategies and push your cognitive limits with Dice Mania's stimulating gameplay.
How to play
Playing Dice Mania involves using your mouse or touch screen to sort the numbers rolled on dice. The goal is to arrange these numbers from smallest to largest as quickly as possible. The player who completes this task fastest scores the highest points. Your progress is automatically saved at different stages, allowing you to advance through the game systematically.
Tips and Tricks
To excel in Dice Mania, speed and accuracy are vital. Practice makes perfect, so play frequently to improve your response time. Diversify your strategies, stay focused on the task at hand, and keep a cool head even when under pressure.
Features
Engaging multiplayer mode that allows global competition.
User-friendly interface for easy navigation.
Auto-save feature enables players to continue from where they left off.
A high-score leaderboard to fuel competitive spirits.
Frequent updates for an optimized gaming experience.
What are the best online games?