Decipher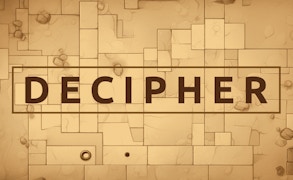 Decipher
Welcome, lovers of brain-games, word-games and trivia-games. Today, let's dive into the mystifying universe of "Decipher," a game that will challenge you in completely unique ways. This isn't just a game; it's a test of wit and agility. It is your brain against the symbols on that screen. Are you ready for this epic duel?
Your journey with "Decipher" is like being thrown into a crypt filled with hieroglyphics – symbols whose language you must unravel. There's always something incredibly satisfying about being presented with what seems like an alien language and then gradually being able to understand it. That's "Decipher" in essence for you.
The game field is cleverly divided into two sections. The first one is out there to aid you, displaying an assortment of symbols, each paired with a specific letter. Think of it as your decryption key. The second one is where the actual challenge lies- a enigmatic array of symbols begging to be transformed into meaningful words.
Your mission? Decode. Using your visual memory and deductive skills, make sense out of these cryptograms and form valid words. It's like being thrown back to elementary school when you learned ABC, only this time, the stakes are higher, and the adrenaline rush - much stronger.
"Decipher" isn't just a puzzle; it compels you to look beyond the chaos and find patterns hidden within apparent randomness—a true tribute to brain teasers everywhere! So gear up for this thrilling journey through tangled webs of symbols as you seek order within chaos. Trust me; "Decipher" will truly push the boundaries of what you've ever experienced in the realm of puzzle games.
What are the best online games?