Death Driver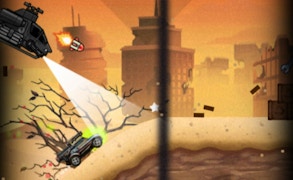 Death Driver
Step into the explosive, adrenaline-fueled world of Death Driver, one of the new year's most exhilarating entries into the realm of car games and driving games. But beware - this isn't your run-of-the-mill racer. In Death Driver, you're not just against the clock. You're up against hordes of relentless, blood-thirsty zombies in a post-apocalyptic cityscape.
The visceral thrill of acceleration meets the chilling horror of a zombie game. This is a fever-pitch fusion that pushes your reflexes to the limit while constantly keeping you on the edge of your seat. Not only will you have to outrun your undead pursuers, but you'll also need to outmaneuver them with death-defying flips and tricks to rack up your score.
The road ahead is treacherous, filled with spiky obstacles and seemingly impassable terrain. Luckily, Death Driver equips players with armored vehicles capable of hill climbing and much more. Every star collected along the way is an opportunity to upgrade your ride, transforming it into a gleaming engine of destruction.
In Death Driver, every destroyed zombie and every high-flying trick feeds into your score multiplier. The result is an addictive loop that keeps you coming back for more - more speed, more destruction, and more thrilling escapes from certain death.
If you are looking for a unique hybrid experience that perfectly blends high-octane car racing with heart-stopping zombie survival, then look no further than Death Driver. It's not just about survival anymore; it's about domination on both the highway and the leaderboard!
This seamless blend of different genres sets Death Driver in leagues above other car games or driving games currently available. Fasten your seatbelt - this is one ride you'll never forget!
What are the best online games?