Death Chase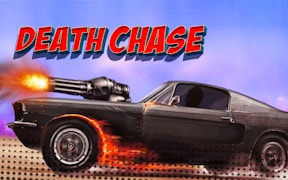 Death Chase
Inject a shot of adrenaline into your gaming routine as you ignite the engines in Death Chase, an electrifying entry in the car games and driving games genres. This pulse-pounding race experience blends high-octane stunts with dynamic, rival-crushing gameplay that is set to rev up your adventure behind the wheel and take it to brand new heights.
Billed as a thrilling stunt driving challenge, Death Chase catapults you into an environment where the road is as bumpy as it is exciting. With hair-raising jumps and fierce competitors, this game makes you feel like every inch of the track is a testing ground for your mettle. Your mission? Outrun, outperform, and outlast your rivals at any cost.
The game begins with an enticing selection of cars that are yours for the taking. This feature allows you to customize your car, adding a personal touch to your bone-rattling, gear-shifting journey towards victory. The anticipation builds even before the starting line as you fine-tune your speeding bullet for the relentless battles ahead.
In Death Chase, winning isn't just about crossing the finish line first – it's about survival. To secure victory over other racers – even if it means to destroy their cars – ramps up the thrill factor several notches while cementing its place among top-tier racing games.
Your thrilling exploits garner more than just close shaves and heart-stopping finishes; they also earn you nitro boosts. By performing audacious stunts and collecting coins and stars scattered throughout the raceway, you amass nitro that can be used to upgrade your vehicle during races, ensuring that every attempt to wipe out rivals is powered by top-notch machinery.
To sum up, Death Chase is a riveting, nerve-wracking, and immensely satisfying addition to the landscape of car games. It whips up an intoxicating mix of racing, destruction, and stunts that guarantees much fun for driving game enthusiasts.
What are the best online games?
Tags