Daily Jigsaw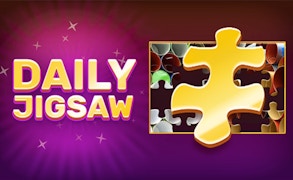 Daily Jigsaw
Immerse yourself in the mind-boggling realm of Daily Jigsaw, a standout amongst online puzzle games. Seamlessly combining elements of brain games and learning games, this digital platform provides an injection of mental stimulation that captures your interest from the get-go.
At its core, Daily Jigsaw is true to its name, serving up a fresh, enigmatic jigsaw puzzle every single day. But it goes a step further. It's not just any puzzle—it's a breathtaking landscape or an arresting abstract composition. One day you may be piecing together a panoramic view of the Grand Canyon; the next, assembling spots and stripes into a charming cheetah portrait.
This game transforms your device into a canvas of exploration and discovery where wildlife wonders meet architectural marvels. The puzzles extend beyond mere entertainment; they are also masterfully tailored to foster learning - preparing you for trivia night with facts about famous landmarks or taking you on virtual safaris around the globe.
As you navigate the vibrant shards of images in Daily Jigsaw Puzzles, you're not just gaming—you're keeping your grey matter active, refining motor skills, improving memory recall and honing problem-solving strategies. This dynamic fusion of brain games and learning games makes this platform an engaging means for mental fitness and fun for all age groups.
In terms of diversity and engagement, few online jigsaw puzzles can match Daily Jigsaw's meticulously curated collection. Each installment promises a new experience—an adventure that teases your neurons, challenges your perception and leaves you yearning for more. Experience daily rejuvenation with Daily Jigsaw. It's not just about joining puzzle pieces; it's about piecing together moments of relaxation, education, and pure joy.
What are the best online games?